Cottage cheese has been a staple in my diet ever since I moved to the U.S. about 100 years ago (haha). Prior to moving here, I didn't know what cottage cheese was.  I grew up eating Quark, which is a cross between Greek yogurt and cottage cheese. Quark is creamy and smooth, and contains a lot less sodium than cottage cheese and less fat than ricotta cheese. Quark is really a unique type of food that is very popular in many European countries.
Many German pastry and cake recipes call for Quark. Unfortunately,  I haven't been able to find Quark in any U.S. grocery stores. The other day, I messaged Aldi, suggesting they bring Quark to their stores. I have seen a couple of online places that carry Quark, but who wants to pay $8 for a small container plus $14 on shipping?
via Pinterest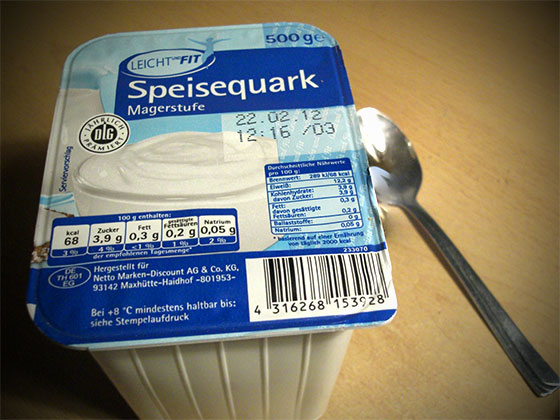 photo via All Things Gym
Anyways, all these years I've eaten cottage cheese instead of Quark. My kids have no idea what Quark is, but they love cottage cheese. In fact, my daughter Christy eats it for breakfast every single day. Her college friends, however, think cottage cheese is the grossest thing you could ever eat.
While cottage cheese has a high sodium content, it is also high in protein, therefore great for those who don't eat meat. I use cottage cheese in lasagna, strudel, smoothies, and pancakes. One more great thing about cottage cheese – it's inexpensive.

If your kids don't like cottage but you want to raise their daily protein level, give this pancake recipe a try. These pancakes don't taste like cottage cheese at all.
Cottage Cheese Pancakes
Ingredients
2 eggs, separated
1 cup cottage cheese
1 tsp vanilla
1/2 cup milk
1 cup flour
2 tbsp sugar or honey
1/4 tsp salt
1/2 tsp baking powder
Directions
1. Start by separating the eggs then use a hand mixer to whip up the egg whites until soft peaks form.
2. In another bowl whisk together egg yolks, cottage cheese, milk and vanilla. Add flour, sugar, baking soda and salt.
3. Using a rubber spatula, carefully fold the egg whites into the egg yolk/flour batter.
4. Heat a pan or griddle over medium heat and lightly coat with butter or oil. Use a small measuring cup to scoop out the batter. cook for about 2 minutes on each side.
These cottage cheese pancakes are light and fluffy, sort of creamy, and full of protein.  I like to top mine with yogurt and fruit.
Are you a fan of cottage cheese?