We have a small home with a front door that opens directly into our living space. Who knows, one day I might have a grand foyer & an office (yeah, right) … but until then, I am working with what I have.
Since moving into this home, three years ago, I have tried several furniture placements.
I placed the couch parallel to the TV, so when you walked into the room you saw the back of the couch. I thought it would be a great way to visually create a separate entry way. In the end I didn't like it. It felt as if the bulky couch was "cutting off" the room. I can see this work better with a slimmer couch. Like this one.
At some point, the couch was where the TV and book cases are now.  I mounted the TV on the opposite wall of the room. Nope, didn't like it. The TV felt "lost" and I was afraid we'd bump into it every time we came through the front door.
My favorite placement: I placed an entryway table and mirror where the TV used to be. It's right next to our tiny closet, which holds some of our hats, gloves, boots, heavier jackets, reusable bags, etc. The entryway table/mirror area is a place for keys, sunglasses, chap sticks, as well as a last minute "before out the door" glance in the mirror. At some point, I want a larger, round mirror.
At first, I wasn't crazy about having the sofa in front of a large window. However, I discovered that placing the sofa in front of the window gave us more open floor space and encouraged casual conversation. It's also the pups' favorite place. I strongly suggest moving around your furniture until it feels right.
At some point, I want to get a smaller coffee table and a soft rug. A brown leather couch would be awesome too. Other than that, I don't want this room crowded with patterns and bright colors. I like minimal, clean and cozy.
This is our "foyer". In my opinion, the entryway table and mirror create a room separation. I guess i can say  I have achieved my entryway  ambience.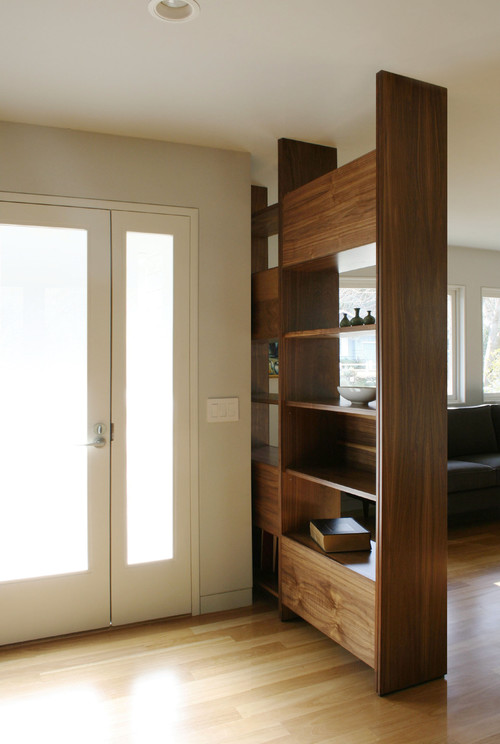 I like the way this modern, shallow bookcase defines an entry, while adding style and function. I think it's better than a wall.
Is your home lacking a foyer? How do you work with it?