Spring is finally here and I decided to "refresh" my decor… just a few simple and inexpensive changes around the house. I got rid of the white snowflake and sweater pillows and replaced them with some "happy" spring colors. I bought inexpensive fabric and curtains at Goodwill and created several new envelope style pillow cases. My total cost for five pillow cases was around $5.
I also gave two kitchen table chairs a makeover. A couple of months back I was at an estate sale. Since it was late in the day, the lady working there just gave them to me for free. It was "either me or trash" she said. I gave them a fresh coat of paint and replaced the old fabric with a single panel curtain.
I have also done a ton of work outside. Mowing, pruning, planting, cleaning, etc. It's a lot of work but I don't mind because it feels so good to be outside. When I am outside I totally lose track of time. It feels good getting stuff done and I always sleep like a baby.
The craziest thing happened to me yesterday. I was in the garage doing laundry. When I turned around to go back in the house, I saw a big snake right behind me. It was big and black. Terrified as I was, I ran for the door and tried to kick it open. This didn't go as planned. I fell backwards and ended up with bruises and cuts. I must have looked like a crazy woman in there. I finally managed to get in the house and I think I had a small panic attack. Once I calmed down I called Animal Control but they don't take care of snakes. Finally, my friendly neighbor came over with a shovel but unfortunately  he couldn't find the snake. Yikes! I'm never doing laundry again. He did tell me the snake I saw was a Black Racer snake. Apparently a very common non-venomous type in Tennessee.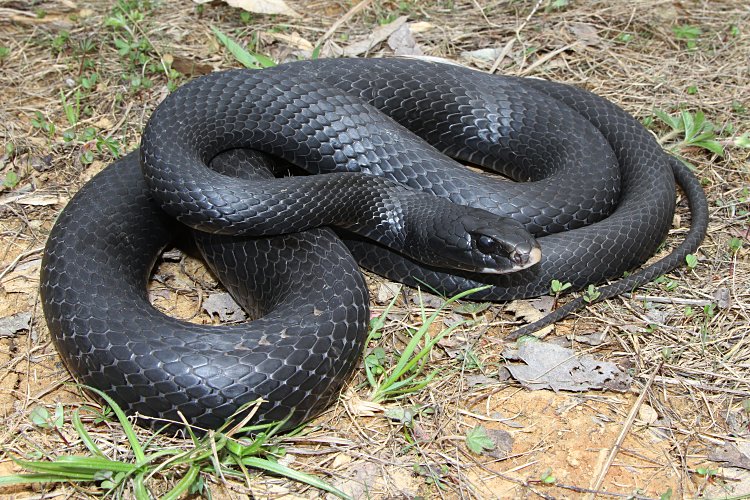 (photo courtesy of animalspot.net)
Can you imagine seeing this  behind you while taking care of laundry? Not okay!!!
Anyways, I hope your spring is happy, fresh, and colorful. Have you been enjoying the outside much? Is it warm where you are?
xoSabine