This shop has been compensated by Collective Bias, Inc. and its advertiser. All opinions are mine alone. #SkinEssentials   #CollectiveBias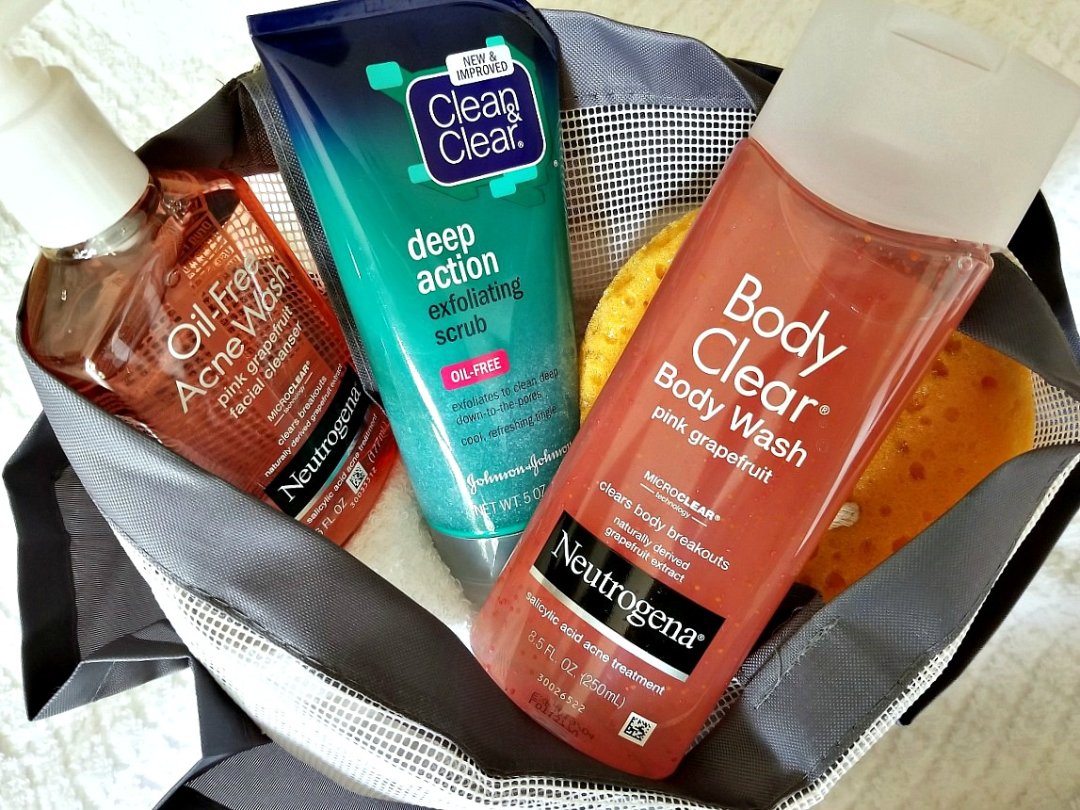 Entering her senior year in college, my daughter, Christy, has a lot on her mind.  After successfully completing a 10-week internship in New York (which gave her the opportunity to develop useful skills and get some much-needed experience to put on her resume), she needs to meet the rest of her degree requirements and prepare to enter the workforce.
As her four years at college come to a close, many changes are just around the corner. One thing that will remain is her skin care and fitness routine. Christy is really good about taking care of her body and skin. In today's post, she shares her skin care regimen that has helped her keep her complexion clear despite late nights and increased stress levels.
Skin Care Tips From A College Senior
Hi, Christy here. I can't believe I'm in my final year of college. Everyone says it, but wow, it truly does feel like just yesterday I was a freshman and moved into my college dorm. Let me tell you, the college years are very interesting, indeed: You will feel on top of the world and utterly defeated (sometimes in the same day).
College is, for most of us, the first time we all truly venture out on our own and begin the work of deciding who we will become. It is a beautiful time of discovery and one that you won't get to repeat.  Your grades are important, and parties are fun, but make sure you take some time for yourself. Taking a little bit of time each day to care for your skin and body is worth the benefits of having glowing skin and a lots of energy. For me, it has made all the difference.
When teens go to college, a large part of their beauty routine is forced to change. Is it that the amount of coffee you consume has increased while your water consumption has decreased? Or maybe, you ran out of your favorite cleanser and scrub? Either way, your skin is changing. Stress, lack of sleep, a change in diet, can make you breakout more than you ever did going through puberty.
In my first year of college I experienced some untimely breakouts. However, after doing some research and trying various methods, I found a skin care routine that has worked for me for  the past three years.
Wash Your Face
I know this sounds like the biggest no-brainer, but I am consistently surprised at how many of my friends don't wash their faces every morning and night. If you're wearing makeup, remove it. Sleeping in makeup can result in clogged pores, styes, and even premature aging. This is no joke, ladies. Honestly, if you do nothing else, do this, no matter how late the party runs.
I have been using Neutrogena® products since middle school and I really like the Neutrogena® Oil-Free Acne Wash Pink Grapefruit Facial Cleanser. It's oil-free and helps prevent breakouts. It contains naturally derived grapefruit extract which smells so good.
For occasional back breakouts, Neutrogena® offers the Neutrogena® Body Clear® Body Wash – Pink Grapefruit.  Its oil-blasting MicroClear® Technology is specially developed to treat body breakouts such as back, shoulders and chest. This, too, has a lovely citrus scent, which feels refreshing after a good run.
Twice a week, I exfoliate my face. This is an absolute must for me. My mom and I picked up the Clean & Clear® Deep Action Exfoliating Scrub at Target.  It helps invigorate my skin by cleansing pores deep down and gently exfoliating surface skin. Exfoliating weekly has made a huge difference for me. My skin feels refreshed and smooth. All three products get the job done and I'm happy with how my skin looks and feels.
Drink Water
I'm sure you've heard it a million times, but I'll say it again: Drinking water does wonders to your body and skin. On campus, you will never see me without my water bottle. I keep it on my desk when I am in my room, in my bag when I am walking around and by my bed while I am sleeping.  Once you work water into your schedule you will see a dramatic difference in your skin. You will see improvement in texture, complexion, and color. Not only will your skin look better, but you will feel better.
Eat Avocados
I love avocados and kale. Do you? What a lot of college kids don't realize is that your skin is dependent on what you put in your body. Don't get me wrong, pizza at 11 pm is ok… occasionally. Sometimes  a hot, fresh slice of pizza is the best cure to your college problems. But avocados are one of the best foods for your skin. Eating avocados is also great for your waistline, cholesterol and blood pressure.
Try Green Tea
Green tea is something I started drinking my junior year. My mom introduced me to green tea, which is now a regular on my grocery list.  Try to drink a cup of decaf green tea at night before you go to bed. If you have time, make a green tea face steam.  It soothes irritated skin and helps detoxify pores.
Exercise Daily
I can't stress this one enough: Find time to exercise. The rewards of exercise extend far beyond slimming down or adding muscle tone. I run daily which helps me release stress (especially during finals) and work up a good sweat, which is the equivalent of getting a mini-facial.  When you exercise, the tiny arteries in your skin open up, allowing more blood to reach the skin's surface and deliver nutrients to repair damage. If you don't like the gym or running, then walk. I don't have a car so I walk to all my classes and meetings.
Stock Up And Be Prepared
Skin care doesn't have to be extensive or expensive. Trust me, my budget and time are very limited.  Being prepared and organized will mean you always have the products that you need on hand. For anyone starting college or heading back, Target has everything you need. If you don't have it yet on your phone, make sure to download the Target CARTWHEEL app. I use it every time I shop there. This helps me save even more and every little bit helps with my tight budget.
During August, Thursday – Sunday, you can save 20% on any Neutrogena®  cosmetics product. If you buy three Neutrogena® facial skincare products, you get a $5 gift card. And when you buy one Clean & Clear® product, you get one 25% off.
You can also purchase the products on Target.com by hovering over the picture below.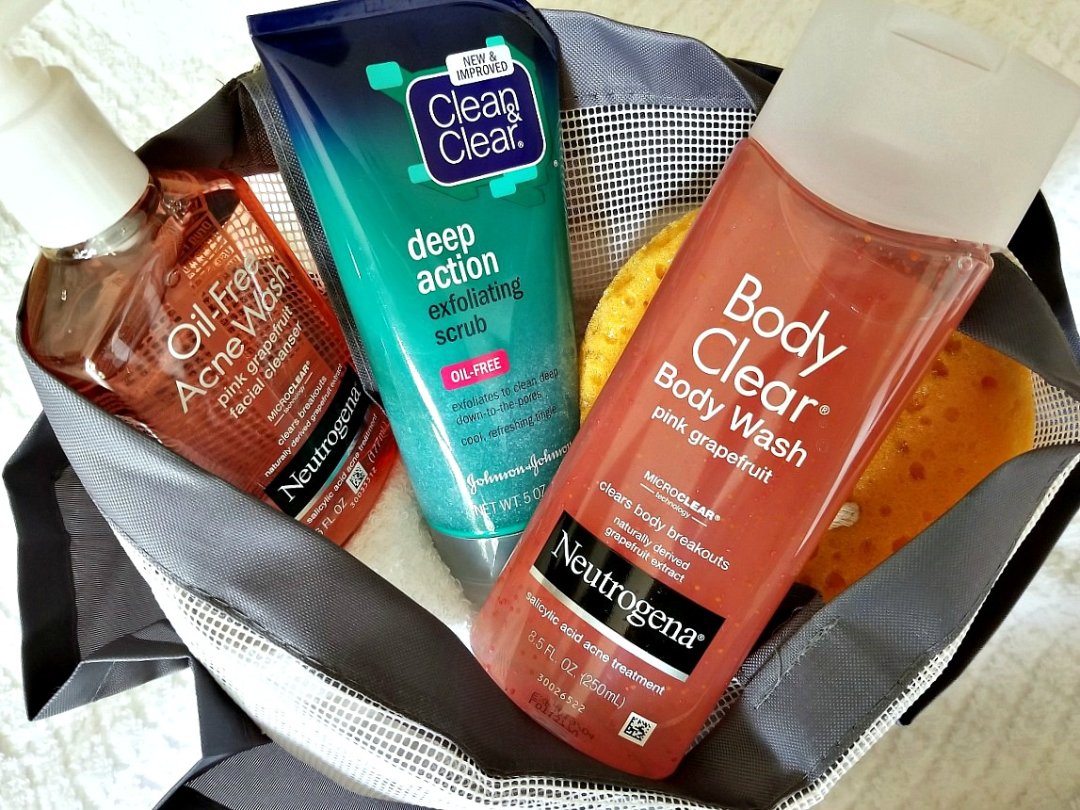 This post is sponsored by CLEAN & CLEAR® and NEUTROGENA®. I only recommend products I use personally and believe my followers will also enjoy! Some of the products mentioned were provided by CLEAN & CLEAR® and NEUTROGENA® for this review