This shop has been compensated by Collective Bias, Inc. and its advertiser. All opinions are mine alone. #BigLotsReady  #CollectiveBias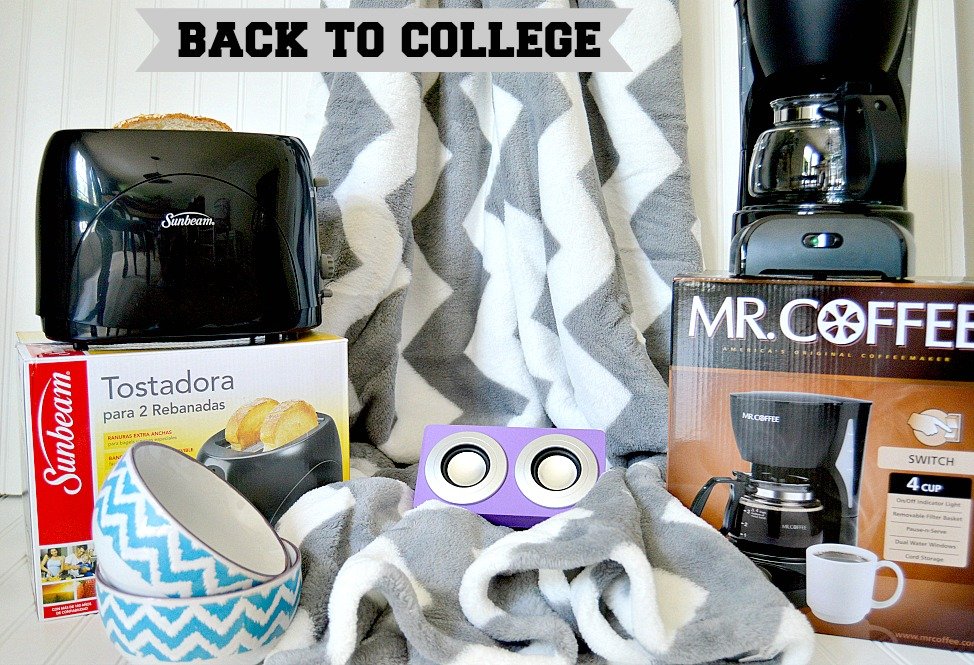 My daughter, Christy, an incoming college junior, has got it all – a lovely room, stove, fridge, counters, cabinets. Now we're talking!
Let me tell you, this girl loves her full size bed and takes full advantage of her kitchen. She cooks every day. Although it's more work for her to cook her own meals, I know she eats a lot better for at least half the cost of the meal plan at school.
Last year was her first year in a college apartment. When she moved in, her roommates had already lived there for a year, so the kitchen was full of essential equipment. This year, two of the roommates moved out taking some of the kitchen stuff with them.
Before the school year ended, Christy made a list of the things she'll need for back- to- college in August. The list included a toaster, coffee maker, some bowls, as well as smaller things such as pens, paper, toiletries, laundry detergent, etc.
Last week, we went to Big Lots and found everything  she needed. We also found items she didn't need but were too hard to pass up. Like this super soft chevron blanket. Let me show you some of the things we bought.
Before we even made it to the kitchen essentials aisle, Christy spotted all this softness. The girl cannot walk past cozy blankets. I can't really blame her. How cute and modern is this chevron pattern? Big Lots offers such a wide selection of fashionable products.  It's hard to only pick one.
Not only is this blanket soft, it will also add a fabulous touch to her room.
Big Lots carries lots of comfy blankets, comforters, sheets, throws;  all value- priced to outfit a dorm room or college apartment. Keep in mind, styles and assortment vary by store. 
In the electronics aisle, Christy found these cute purple wireless mini speakers. The speakers are portable and rechargeable… perfect for college kids.
Although speakers weren't on Christy's list, she loves to listen to music while she cooks. She has already tried the speakers at home while preparing her favorite dish: veggie stir-fry with basmati rice.
Next, Christy chose this Sunbeam toaster for her morning toast, which goes perfectly with the much needed Mr. Coffee.
She starts each morning with a run,  a cup of coffee, cottage cheese or yogurt  with fruit and toast. A coffee maker is essential during finals when she spends up to 12 hours in the library.
The size of this coffee maker is perfect for her small kitchen.
Here, she grabbed a few school supplies for her upcoming junior year. During the school year, getting to a store isn't easy for her since she doesn't have a car.  Summer is a good time for her to stock up on things she'll need and I feel better knowing that she has everything she needs for the school year ahead.
These bowls will be perfect for her stir-fries, soups,  cottage cheese, and cereal.
We love shopping at Big Lots. They carry a wonderful assortment of high quality back-to-college items.  Really, Big Lots has all the essentials whether it's for a dorm room, living space, or kitchen area. In addition to smaller college essentials, Big Lots carries mattresses and ready to assemble furniture including desks, chairs and bookshelves. I got so excited when they opened a Big Lots store in our neighborhood. Their cashiers are always friendly and helpful. Did you know you can also shop Big Lots (biglots.com) online?
As a junior, this will be my second year living in an apartment, and I can assure you that cooking's not as daunting as it may initially seem. Stocking the right foods in your kitchen is going to take you a long way toward a good start.
I think healthy eating is an amazing stress relief tool that a lot of college students don't use. Ever since I've made it a point to eat healthy balanced meals and drink more water my stress levels are way down. The act of cooking can be relaxing too, knowing that you are nourishing your body and treating it with kindness. Whenever I come back from a busy day of classes, it's always wonderful to put on a pot of something or other and start heating, mixing, and then experimenting with tastes. It's a wonderful way to blow off steam. Lots of college students think eating healthy is such a hassle but it's FUN!
Shopping
Your first trip to the grocery store should include some products that will get you through an entire semester of eating, in addition to those that you'll replenish regularly.  Buy staples like olive oil and salt. On move-in day, my mom and I hit the grocery store and stock up on rice, dried beans, lentils, nuts,  sweet potatoes, dried spices, peanut butter, almond milk, frozen chicken, lots of fruits and veggies, yogurt, cottage cheese, eggs and butter. I don't buy any junk food. If I have it in my kitchen I will eat it.
Equipment
You'll need at least one pan (a 10-inch skillet, nonstick) and one pot (large enough to cook pasta and rice), plates, small bowls, as well as a can opener, a paring knife, a chef's knife, a large bowl (for mixing), a plastic cutting board, measuring cups and spoons, a couple of wooden spoons, a spatula, a baking pan, a cheese grater, and colander.  Plus a few dish towels and tupper wear. You can also add a blender, toaster, and  coffee maker.
Meals
My advice, cook simply and often. Lean on lunch and dinner formats like pasta; meat, fish, or vegetables; salads; rice bowls and stir-fry. For breakfast, stick with standards like eggs and toast, yogurt, fruit and oatmeal. Rice bowls are my favorite. They are easy and quick to make and can be changed up with herbs, vegetables, and protein. Something I usually do is chop and cook a bunch of assorted fresh veggies at the beginning of the week and use them all week-long in wraps, tossed into pasta or mixed into brown rice.
Decide if you're the type who can eat the same meal repeatedly. If so, you'll save energy by cooking a big batch of chili or lentil soup to fill bowls for days. This type of cooking is perfect during finals.
Cleaning
The more you cook, the more of a mess you make. Make it a habit to wash dishes as soon as possible after eating, especially if you are sharing the kitchen.

Cooking in college is a wonderful thing. I feel so blessed having a full kitchen where I can prepare delicious meals. For me, cooking takes less time than walking to the nearest campus cafeteria.  With the right tools, cooking on your own can be done quickly, cheaply and, most importantly, in a healthy way.